Banbridge and Dromore girls team up in 'Stick with Diversity' project

Posted on 3 March 2023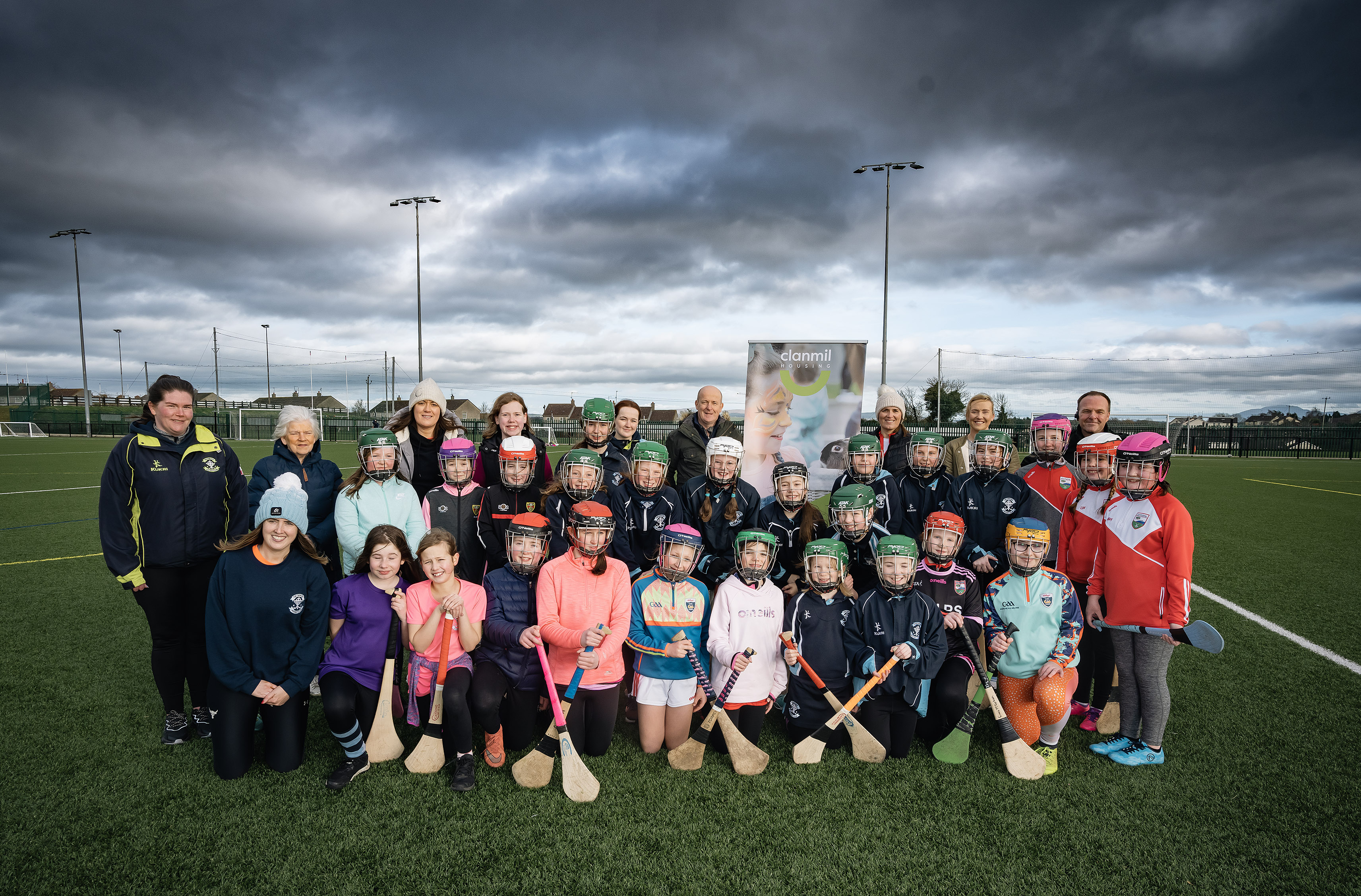 A group of 30 camogie and hockey players from Banbridge and Dromore are developing skills on the sports field and building relationships in the community through a unique project being delivered by the PSNI's Neighbourhood Policing Team with support from Clanmil Housing.
The 'Stick With Diversity' project is taking place over seven weeks and is being supported by funding from the NI Executive's T:buc/Housing for All initiative, as part of Clanmil's Good Relations plan to encourage cross-community engagement in the area around its shared housing development in Hawthorn Gardens.
It involves girls aged from 10 to 12 years from Aghaderg GAC and Ballyvarley HC and Dromore Hockey Club.
The participants had a team building day at an outdoor adventure centre at Colin Glen Forest Park, Belfast at the beginning of February and have been meeting up on Sunday afternoons since then at the shared space 4G pitch at St Patrick's College and at Banbridge Hockey Club. 
The first three weeks' sessions have focused on learning about camogie, while the following three weeks will be built around hockey skills. Each session is followed by discussions on a range of topics including staying safe on social media and mental health and wellbeing, as well discussions around good relations and diversity.
Constable Ruth Young, who along with Sergeant Kevin Quinn, has delivered the programme to two other groups previously, explained how it began:
"The idea to create this type of programme came about around three years ago. As a keen hockey player myself, I felt it was very important that girls had the opportunity to integrate with other girls from the camogie community, and try and build cohesion between the different communities who would typically not have much contact with each other. I also saw it as a good opportunity to speak to the girls on different policing issues that we deal with and educate them on being safe on social media, the dangers of drugs, road safety and wellbeing. This project would not have been possible without the funding from Clanmil and we greatly appreciate all their help."
Austin Kelly, Community Cohesion Officer with Clanmil added:
"It's been fantastic to work with the Banbridge Neighbourhood Policing Team and the town's camogie and hockey clubs. The girls have really got so much out of the programme, trying out a sport they might not have had a chance to try before, getting to know each other better and learning useful life skills. We are pleased to be able to support this project as part of our commitment to creating safe and vibrant communities where young people from different backgrounds can learn from each other."
Camogie player Leah said it's been "really fun" sharing her skills with the girls from the hockey club, while hockey player Madison added:
"I'm enjoying it because I haven't had an opportunity of playing camogie before and it's nice to try new things."
About T: buc and shared housing
Hawthorn Gardens is one of the initial 10 T:buc developments, which were a headline action in the NI Executive T:buc Strategy.  Clanmil Housing continues to work in partnership with the local Advisory Group stakeholders and with residents to develop the scheme's Good Relations Plan. The project is supported through the NI Executive Together: Building a United Community Strategy, which reflects the Executive's commitment to improving community relations and continuing the journey towards a more united and shared society.   The Hawthorn Gardens shared housing development is also supported by the Department for Communities and the Northern Ireland Housing Executive.
For more information about the Together: Building a United Community please visit: The Executive Office - Together: Building a United Community.
To find out more about the Shared Housing Programme please visit: Department for Communities - Shared Housing Programme